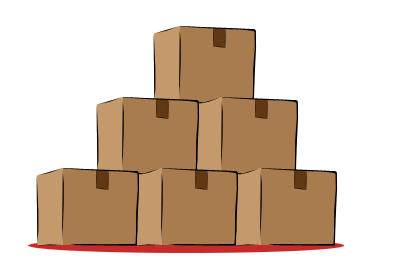 PLEASE READ BELOW BEFORE PLACING ORDERS!!!
We are glad to be able to still be taking orders on GW products, but PLEASE NOTE that not all items are currently on-hand including Special Order items (as always).
All we ask is that you understand that we are still trying to navigate GW's current situation as they are slowly getting back to running at normal capacity.
Thank you in advance for your patience during this time.
With that said, we currently expect Most orders to take 12-18 DAYS to turnaround due to GW's current processing systems.
So again, thank you for your patience as we do the best we can to serve you right now.
SHIPPING INFORMATION
UNITED STATES
Free Shipping* will be applied to most orders over $99 at time of checkout.
ALL Orders up to $99 are only $8.99 Flat Rate S&H
Cheaper First Class shipping options will be available at checkout if your order weight qualifies for First Class Shipping.
We do offer Express shipping Options.*
IF YOU REQUIRE EXPRESS SHIPPING, EMAIL US AT [email protected]
*DUE TO THE HUGE SHIPPING COSTS INVOLVED FOR US TO MAIL TO SOME STATES, CALIFORNIA, WASHINGTON, OREGON, COLORADO, NEVADA AND UTAH WILL INCUR AN ADDITIONAL $8.50 SHIPPING FEE DEPENDING ON WHERE THE ORDER IS BEING SHIPPED. THIS ADDITIONAL FEE WILL NOT BE WAIVED UNLESS YOUR ORDER EXCEEDS $349. PUERTO RICO, ALASKA AND HAWAII WILL INCUR AN ADDITIONAL $30 SHIPPING FEE THAT WILL BE WAIVED FOR ALL ORDERS OVER $399.
*A HANDFUL OF LARGE OR EXTREMELY HEAVY ITEMS WILL INCUR AN ADDITIONAL FEE. THESE ARE VERY CLEARLY STATED IN THE ITEMS TITLE AND DESCRIPTION. THESE FEES WILL ALWAYS BE APPLIED REGARDLESS OF ORDER TOTAL.

SPRAY PAINT / AEROSOL PRODUCT RESTRICTIONS
Due to Federal Regulations we cannot ship Spray Paint internationally, nor to APO/FPO addresses. In the US, spray paints cannot be shipped by Air. Therefore all orders containing spray paints will ship FedEx or USPS Ground Service. This will add extra delivery time and an additional $1.00 to your order per every can ordered as Ground Service is slow and more expensive.
INTERNATIONAL ORDERS
Due to Games Workshop Internet Policies, we unfortunately cannot ship Games Workshop products outside of US borders.
SPRAY PAINT / AEROSOL PRODUCT RESTRICTIONS
SORRY- We Can Not Ship Aerosols (Spray Primers) Outside the Continental United States!
International Buyers – Please Note:
Import duties, taxes, and charges are not included in the item price or shipping cost. These charges are the buyer's responsibility. Please check with your country's customs office to determine what these additional costs will be prior to buying.
SHIPPING TIME
Many orders ship within 24 hours of payment.
Most orders ship within 3-7 business days.
NOTES ON GAMES WORKSHOP ORDERS
All Games Workshop New Release Items will ship promptly the week of release. Most will arrive on or within 2 days of release date. Orders that include items that are not New Release items may not ship as promptly, please see below for more details.
Games Workshop items that are clearly marked "SPECIAL ORDER" are not on hand and may take up to 14 business days to ship as these items are not stocked on hand due to GW inventory restrictions.
LOCAL PICKUP
We have a commitment to our local customers, and with our store credit program our in-store prices are very close if not the same as buying from us online and paying the shipping price (which greatly reduces your discount when factored in).
No one will ever be able to purchase from our online catalog, and not pay the shipping charge by picking them up locally.
It's not fair to any of our other customers, local or otherwise.
SHORTAGES/ORDER ERRORS
We are only human and mistakes do happen sometimes. We work very hard to double check every order as it leaves and we will work extra hard to correct any mistakes that we have made!
If you are missing something from your order, please contact us immediately at [email protected] and we will make your order issue our priority!
We can offer to - A: Ship you a replacement item, B: Issue Dicehead.Com store credit, or C: Refund you for the amount of the item(s) missing and any reasonable shipping costs involved.
RETURNS
At Dicehead Games you can return any item back to us in unused, new condition.
For any orders that were mis-shipped or damaged, we will do our best for you to make it right, and cover any shipping for errors we caused.
Item(s) must be returned back to us in unused, new condition (unless damaged obviously).
Please email us at [email protected] for instructions on sending back any mispacked items!
At Dicehead Games you can cancel your order, or return any item back to us in unused, new condition within 7 Days of delivery completion.
We do charge a 20% restock fee (of full retail value) for any item cancelled or returned that was not an error on our part and we do reserve the right to not accept returns or charge a higher restock fee on obscure or unique items.
The customer will pay for and is responsible for all shipping charges, including the original shipping fees and the costs of returning the item to us.
Item(s) must be returned back to us in unused, new condition.
Please email us at [email protected] for instructions on sending back any return items!
If we receive a package back due to the address being incorrect and it was an error on your part, we will gladly ship it to the correct address, but you will need to pay for the shipping costs involved in us doing so.
If the package is lost or unable to be located due to an error on your part in the address, we CANNOT be held responsible for this loss. It will be your responsibility to contact the carrier and file loss claims.
If the error was created by us, we will ship the item back to you at the corrected address free of charge to you.
WHY IS MY ORDER SHOWING "ON HOLD"?
Our system will currently show your order as "ON HOLD" even after you receive a shipping notification with tracking information. 
This is a temporary work around with our shipping provider. 
If there are any issues with your order, we will contact you.
CONTACT US!
Our Mail Order Team is available at (423) 473-7125 from 11AM to 6PM M-FRIDAY Eastern time in the US.
If you need help with an order, you can email us at the address below for any ORDER issues. We will try to get back to you with 24 hours, and before your order ships.
During peak volume times such as holiday sales it may be advisable to contact us via phone between 11am and 2pm if immediate assistance is necessary.
email us at [email protected]